Hello June:)
I'm still adjusting to the fact that HALF A YEAR HAS PASSED (say whuuuuut?) Although I did enjoy the first half of the year tremendously I still find it incredulous that I'm going to turn 22 in just a few months time (okay let us not complain how old/young I am)
Anyway, today I will be sharing with the items that I've fallen in love with during the month of May. I've been using some of these for quite a while now and I feel the need to let you all know how great these products are.
Starting from top left: Chanel Le Blush Creme De Chanel in Affinite (65), No 7 Protect & Perfect Advanced Serum, YSL Touche Éclat in #2, Shiseido Perfect UV Protector SPF 50+, MaxFactor Whipped Creme Foundation in Beige, Roses De Chloé Eau de Toilette
-----
Chanel Le Blush Creme De Chanel in Affinite (65) - £24.08 from Nordstrom
I've been an ardent fan of cream blushes for the past few years. Although I do use my NARS Orgasm blush from time to time, a cream blush gives a more even blend to my skin especially when I don't have any foundation on, which is pretty often.
I've been switching between Topshop's cream blush and my newest 3CE buy (read my previous review here) but when I was at the Chanel counter window browsing, I swatched their cream blush and was amazed by how pigmented and rich the colour was. I don't believe in splurging on expensive beauty products unless they are worth the hype and money, and after much contemplation (and a 20% off) got it.
The colour leaves your cheeks a gorgeous flushed colour and lasts a whole day for me. I have used this about 3-4 times the past month and I can say I am glad I bought this product.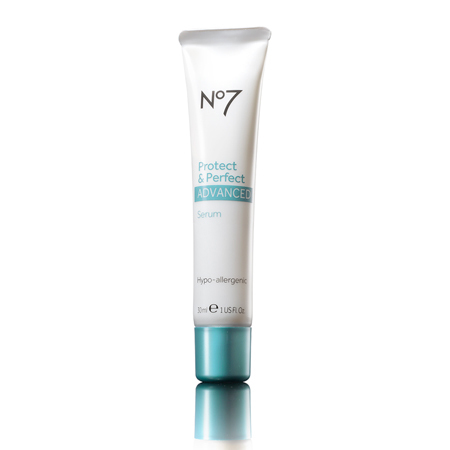 No 7 Protect & Perfect Advanced Serum - £23.95 from Boots
I have never put much effort into my nightcare routine. But as of late I have had an epiphany (or rather an outbreak of dry skin) that maybe this might be the time to replenish what has been lost. Afterall, many say that our skins start to form wrinkles at the age of 25! Boots was having a 3 for 2 sale earlier this month together with a £5 off voucher I had for No 7 facial products.
I was looking for a serum and tried this on the back of my hand with pleasantly surprising results. My skin instantly felt smoother and left a light hint of fragrance, nothing too overpowering. This might be a little steep for a small tube but I hope this does last long for me as I can tell I will be using this for quite a while.
YSL Touche Éclat in #2 - £25.00 from YSL
How much do I love this? So much that I have recently bought yet another tube (yay!)
The YSL Touche Éclat is exactly what every woman needs on a daily basis. It doesn't budge, it doesn't leave weird streaks all over the face and it blends beautifully into the skin, leaving it glowing and radiant. I used to be on the hunt for a good highlighter and initially tried powder ones, but they kept wearing off throughout the day especially in a humid weather like Singapore. Application is simple. All you have to do is press the button at the end of the product and apply it whereever you wish. Blend with your fingers and you're done!
Shiseido Perfect UV Protector SPF 50+, 50ml - Only available in Asia
I have been using the same sunscreen for about a year now, and I have no intention of changing any time soon. I was in Hong Kong last year and I was running out of my previous sunscreen when I purchased this.
Where do I begin? Normally after washing my face I apply my morning moisturizer (which leaves my face rather oily) and in order to rectify it, I use the Shisedo UV Protector. This thing works like MAGIC. It sucks up the leftover oil and leaves your face with a glowy smooth finish. I thereafter apply my foundation and yes, it glides on perfectly.
The sad thing about this is that it can only be found in Asia and I'm currently on the other side of the world and running extremely low on this product :'(
Maxfactor Whipped Creme Foundation in Beige (55) - £9.99 from Boots
If you love the texture of some mousse foundations but hate the way they can cake and flake on drier areas, whipped creme is set to save your look. The whipped, non-oily formula glides over skin, to create a flawless, demi-matte finish.
Can I say how taken aback I am by the lasting power of this baby? It has lasted a good 12 hours for me (with a finishing powder) and stays perfect. All day. For the price you pay for, I'd say this is one of the best drugstore foundations I have purchased to date.
Ah, where do I start with this? Floral, playful, alluring. The Roses de Chloe is a delightful scent composed around roses, with hints of lychee and a very faint musk. If you aren't into the Chloe EdP (Which I am not), I'd highly recommend this. It's a light, youthful scent that stays on for about 4-5 hours before having to reapply.
Stay beautiful, x.
I was not paid nor sponsored for this product review. The review was written entirely in my opinion.